Keep up to date with the latest news and exciting projects Sunny is working on in the Yakima Valley.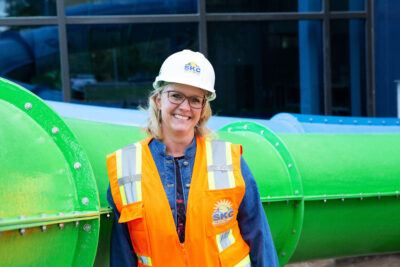 When Sunny Cameron was a little girl, she and her older brother, Brook, liked to build forts in the back yard of their north Seattle home. "I was the little sister tagalong," she recalled. With blankets, sticks and a piece of an old parachute, they let their imaginations soar.
Today, as owner of SKC Consulting LLC, based in Yakima, Cameron is working on a slightly bigger scale. She's coordinating projects such as the $21 million, 68,000-square-foot YMCA and Yakima Rotary Aquatics Center on River Road and the $17 million Moses Lake Community Health Center renovation.
What Our Clients are Saying
"We experienced nothing short of excellence when working with SKC Consulting.  Sunny Cameron was the Project Manager as we built our 200,000 square foot distribution center and free grocery store in Yakima.  Her knowledge, attention to detail and skillful negotiation prowess in construction management was the driving force that allowed us to complete such a large endeavor in less than 24 months.  She was communicative and available when we needed to reach her all throughout the project.  Her mastery of task management and follow up are unmatched.  She is kind, thorough, persistent, and able to navigate complicated construction details like no other consultant we've worked with.  We would work with her again and again and would recommend her to anyone looking for the very best project management consultant.
In other words:  Hire Her!  You'll be very glad you did."
"Non-profit leaders aren't construction experts. Yet, a new building can change your trajectory or even redefine your organization. You can't afford mistakes. You truly need someone with the knowledge and skills to represent your team throughout the entire building process. Sunny Cameron of SKC Consulting is the perfect liaison between your team, the architects and the contractor. She is proactive, always prepared and extremely professional. When we constructed our new Y, the best decision we made was to hire SKC Consulting. Sunny's advice and engagement was invaluable. You need her on your project."
- Bob Romero, Executive Director
Yakima YMCA
"Sunny provides invaluable knowledge about design, construction, contractor management along with a solid understanding of how funds flow during the process. Because Healthcare Administrators don't build buildings as a normal part of their job, hiring an owner's representative can be invaluable and Sunny has been a great asset on our project team. She provides financial knowledge in tracking progress spending and review of contractor invoicing. With Sunny on our team I'm sure we have saved thousands, probably tens of thousands as she has been able to assist with architecture and mechanical design questions and processes."
"Sunny Cameron might as well print "Hanes" on her forehead. She covered our ass from the beginning to the end of our construction project. You would be a fool not to hire her."